The Federal Aviation Administration (FAA) 2021 published its Remote Identification (ID) Rule, making it mandatory for U.S. airspace drone manufacturers to get their remote drones identified by FAA.
The process of drone identification was expected to be completed by September 2022; however, drone manufacturers can now do so by before the year 2022 ends.
As per the FAA, a delay in the remote drone identification process occurred since the identification is made by the hood method, in which the manufacturers have to register for the identification based on the performance of their drones. This is quite a time taking procedure, and thus, FAA decided to give an extension of three months to manufacturing companies, extending the timeline from September to December 2022.
In this article, we will learn more about the Remote Drone ID Rule applied by the FAA for drone manufacturers and operators.
What is FAA Remote ID rule?
Every drone manufacturer and operator must broadcast essential information about their drones and their operating techniques to FAA by the end of December 2022. This identification will work as a digital license plate for drones. This ID regulation includes a digital license plate which consists of essential information about the drones such as serial number, emergency status, drone position, controller's position, speed, and timestamp. 
Under this new FAA remote drone ID rule, U.S. Airspace will have specific knowledge about each drone, including higher-level safety flight drones. Moreover, it also makes it easy for pilots to follow operation rules set for each kind of drone, and authorities can identify the pilots who intend to not follow these rules. 
FAA has made it mandatory for all drone operators to comply by the regulation, and exceptions are made only for the U.S. Department of Defense or other federal agencies for the flights that come under the FAA-recognized Identification Area (FRIA) and for the drone used for recreational purposes weighing 0.55 pounds or less.
What is a remote drone identification system?
A license plate of each drone that can provide a piece of broad and specific information about the owner/operator of the drone to the security and defense authorities is referred to as a remote drone identification system. This remote identification technology helps to gather unique information that can help the authorities to monitor, track, and locate the exact drone and its operator in real-time.
Drones are blooming worldwide, and in the last decade, they have gained various commercial applications such as cargo delivery, surveying, hobby, entertainment, mapping, and inspection, which has driven the growth of the drone market drastically.
With the increasing applications of drones, the need for tracking them and their operators has become a necessity for authorities in order to reduce incidents and accidents due to airspace congestion.
What is the need for FAA's remote drone identification rule?
The regulatory agencies have come up with a solution for a remote drone identification system that helps to broadcast information such as drone identification (ID), drone velocity, control station location and elevation, drone location and altitude, time mark, and emergency status that will provide necessary data to government entities and security agencies for monitoring drones. It will also help the agencies to take strict action against the drone operators and pilots who will be found guilty of any illegal attempts of actions, w.r.t. drone operation.
According to a report by BIS Research, the global remote drone identification system market was valued at $2.9 million in 2022, and it is expected to reach $4.0 million by 2032, with a CAGR of 3.5% during the forecast period 2022-2032.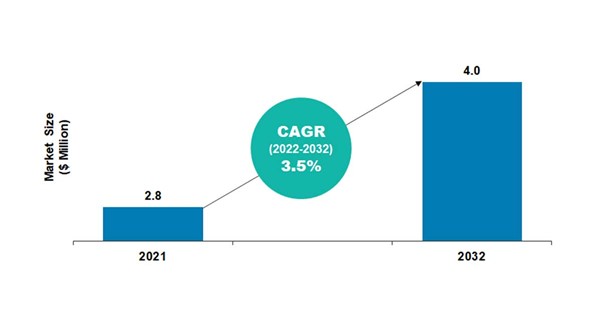 Find more details on this report in this FREE sample.
Conclusion
The remote drone identification rule initiated by FAA has paved the path for various growth opportunities in the defense and commercial sector while focusing on security as one of the prime concerns.
Alongside, FAA's ID rule makes it easy to detect and track drones in the enforcement of evolving regulations. The integration of remote ID systems allows multiple software solution providers to develop technology that is capable of increasing the adoption of remote ID systems in a smooth way.
Interested to know more about the developing technologies in your industry vertical? Get the latest market studies and insights from BIS Research. Connect with us at [email protected] to learn and understand more.