How can an online learning solution help colleges affect due to COVID-19?
In response to the COVID-19 global pandemic, higher education institutions across the nation are shuttered to stem the spread of the virus. Higher Education Institutions are now turning on the distance learning mode to ensure educational continuity for their students. The transition to remote teaching and learning can be as seamless as possible with the right LMS partner. LMS during COVID ensures the education community's safety, while also dynamically driving business continuity methods in the long run.
Did you know? A right LMS can provide greater education insights, improve learner engagement, and build academic excellence by solving the core challenges during any sort of unexpected lockdown.
At Creatrix we began this journey a decade back with a special focus on learner engagement, which is helping education during COVID-19 now.
This blog is for those who are figuring out practical ways to help institutions, professors, and instructors get started quickly with an online learning platform during COVID time. If you're still undecided about whether a Learning Management System is right for you, here are — unbelievable benefits an Online LMS could give you during a crisis time.
Before proceeding further, we recommend you to read our LMS features blog which discusses the definitive features of an LMS that aligns with any institution's goals.
How does an LMS help uninterrupted education during Covid-19?
Online LMS' these days are a crucial part of the eLearning process, more so, if you have a large student community to cater to. In times of emergency like COVID, an LMS is even more important.
Engagement and collaborative tools for personalized learning
Overcomes physical boundaries for a broader reach
Helps stay connected while delivering remote instruction
Uninterrupted learning through 24/7 Mobile
Centralized location to course materials with easy access
Making students become self-learners
1. Engagement and collaborative tools for personalized learning
To counteract the above challenges, LMS these days come designed with AI-built features to provide an interactive and immersive e-learning course delivery.

People are often under the assumption that the online way of learning is no more restricted to one-way communication.
With the intrusion of Artificial Intelligence (AI), LMSs bring personalized learning to life by enabling the learning experience to be truly responsive to your learners' needs.
Flipped learning offers a great approach to overcoming the problems in mere online learning. LMSs these days come with a lot of engagement and collaborative tools to keep the learner interested and engaged in his learning path.
To make the classes more interactive, polls could be used with sharing the results in real time. This is a great way of engaging students remotely. The discussion forums are best to be used with teachers and students posting questions and answering them. Students could be grouped to work on assignments and discussions for more interaction and involvement.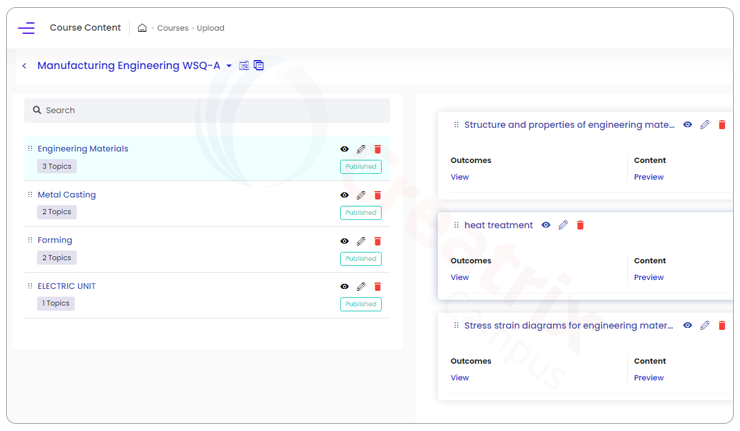 Creatrix OLMS is one such tool that allows students to get into Video Conferencing mode and communicate with their faculty, SMEs, and students. Features like multi-point video, digital whiteboard tools, forums, and online communities make the class livelier, delivering an ultra-learning experience. All these ensure that there is no risk of isolation and students don't get bored with online learning classes.
2. Overcomes physical boundaries for a broader reach
With webcasting, instructors can access students across different countries to deliver lectures. The best part of this sort of online teaching is, it gives a broader reach, involving more students than a virtual classroom.
There are no physical constraints unlike a traditional classroom or a lecture hall. High-quality lectures can be delivered to a number of students from anywhere, anytime, and on any device.
3. Helps stay connected while delivering remote instruction
Institutions should first look for ways to leverage uninterrupted communication to advance learning. A learning management system LMS they select should involve the broader student community to stay connected with teachers and each other and drive student engagement.

During times like the COVID-19 pandemic, institutions can send bulk emails to share their concerns for students and parents regarding safety, and how the courses will continue online. Students on the other hand can be informed of their course material uploads even while you are building it. Automated alerts could be sent to intimate new assignments/deadlines, forum posts, etc.
Creatrix OLMS communication framework, there are greater opportunities to share accurate information. You could show how the COVID lockdown is an ideal time to prove how to access student tutorials to be successful in their online courses. Ways on how to submit assignments, take part in a discussion forum, check their grades, etc can be informed through the communication channel.
4. Uninterrupted learning through 24/7 Mobile
Mobile phones are no more a sophisticated tool, but a basic necessity. Students can now get uninterrupted learning even during lockdown times; they can take up classes on their phones, from anywhere and at any time, ensuring consistent on-the-go learning.
They have virtual classroom experience with options to view the contents visually and communicate via text chat and audio.
Creatrix OLMS allows users to complete assignments and quizzes through mobile, view grades & course materials, and collaborate in different ways, just like how they would in the real classroom.
There are also options for students to clarify queries during the session. The best is, it is AI-built where the instructors can learn if the learner(s) leave their session.
The purpose of our virtual LMS is to make learning more accessible, enjoyable, and meaningful for all learners and improve their learning outcomes.
Creatrix OLMS integrates seamlessly into the learning management system to make digital course content and learning materials more accessible to all its stakeholders, in one centralized location.
5. Centralized location to course materials with easy access
OLMS these days make learning more accessible, enjoyable, and fun. They have a single place to house all Course Materials; it is from here that the instructor creates & manages course contents with videos/files, delivers material to students, assigns tasks and administers them, tracks progress, & manages record-keeping.
Creatrix Online LMS has complete transparency in lesson planning, tracking course activities, schedules, and grade settings, all in one place. It comes with media support features to insert video & audio files into courses through external sources including PDF, PPT, videos, and much more. Each topic in the syllabus could be mapped with the learning outcomes.
6. Making students become self-learners
An LMS that creates a self-learning environment for students is the pick of the day. It should engage students and give a good amount of self-reflection in their learning.
Creatrix has this interesting feature inbuilt into it. On completion of every single topic, there are options to set predefined online assessments and quizzes with threshold values to track their progress to the next level.
Besides, students' data are right in their hands.
The intuitively designed personalized dashboards display real-time status bar reports displaying the ongoing, past, and future course progresses, including with the tasks due. So students know where they stand and improvise based on that.
The Learning and Web Log Analytics and domain-based analytics provide insight into learners' time spent on learning.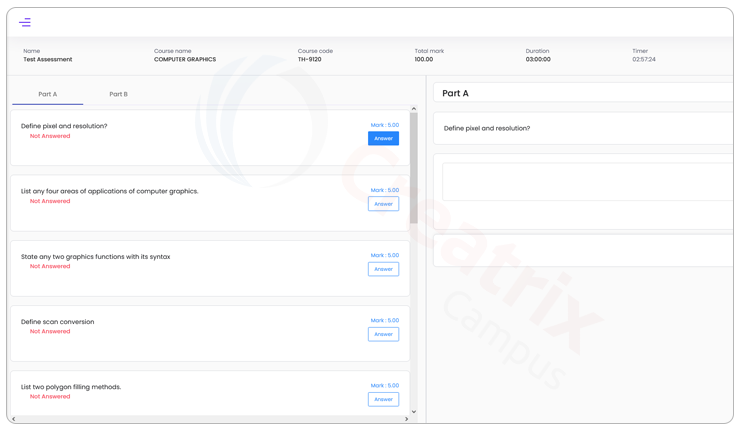 What are the challenges often associated with online learning?
We have figured out some of the commonly quoted challenges of online learning to only see how an LMS overcomes all of them.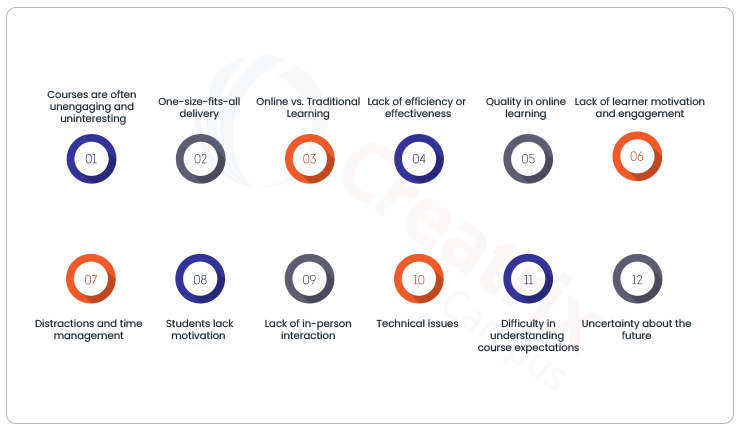 An efficient LMS will easily overturn the above-mentioned challenges with its amazing benefits. Here are some of the benefits an LMS could offer you.
What are the additional benefits of online LMS?
If you were to ask "why should I use an online learning management system?", "what can a Learning Management System do to enhance learning?" here are some additional benefits of an online learning platform.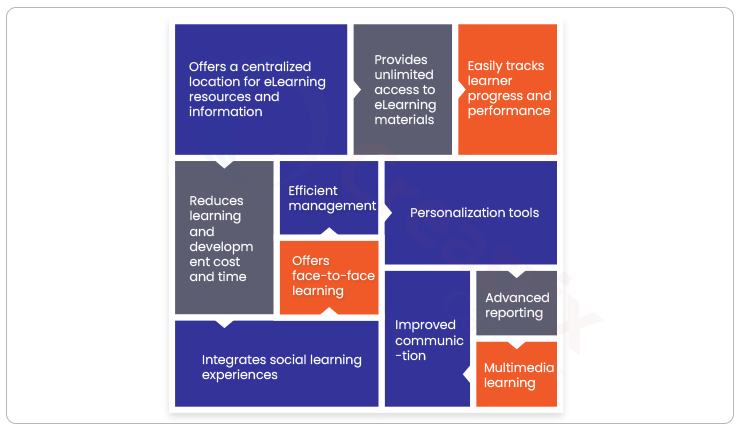 Conclusion
We all are together in this global education community and we have to ensure continuity of education during this global crisis. By choosing an LMS we could dedicate our success during COVID-19 and beyond.
With Creatrix Online Learning Management System, teaching and learning can be sustained to normalcy. This allows you to create course materials and pass frequent reminders and prompts within the system students and faculty use most, and track response rates in real-time to encourage participation. Book a live demo today!