Free Template Tuesday Download Now Available Starting October 18, 2022
Every week inside the free VIP Resource Library, I give away one (or more) templates from the 401k Business in a Box Library (normally only available inside the paid program).
Here is this week's free template.
Click Here to go to the VIP RESOURCE LIBRARY and Download the FREE TEMPLATE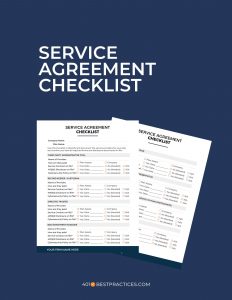 Service Your Business:Service Agreement Checklist
Inside the Compliance File in a Box Complete Kit, you'll a service agreement checklist under Plan Provider Documentation.
This checklist helps plan sponsors document:
who their service providers are
who they have current contracts on file for
how they're paid (plan assets or by the company directly)
who has provided required disclosures (401(b)2 and Cyber Security Policies)
Having this checklist makes provider reviews and benchmarking much easier as well!
This week you can access the Service Agreement Checklist.  Just log into the Free Resources VIP Library to access.
If you're not already a member of the VIP Resource Library, click here to join now (it's free).