Engineering is a vital industry in Singapore, with a growing demand for professionals and institutions that are able to deliver high-quality engineering solutions. The IES accreditation is a professional organization that promotes engineering excellence and represents the interests of engineers in Singapore.
One of the key ways that IES achieves its mission is through its accreditation program, which recognizes the achievements of both engineers and engineering programs in Singapore.
In this blog post, we will explore the benefits of IES Accreditation for engineers and engineering programs in Singapore, as well as the requirements for achieving this prestigious recognition. Whether you're an engineer or an academic institution, read on to discover how IES Accreditation can help you achieve professional success and recognition in the engineering industry.
History and key milestones of IES accreditation
The Institution of Engineers, Singapore (IES) was founded in 1966 as a professional society for engineers in Singapore. Since its establishment, IES has been committed to promoting engineering excellence and representing the interests of engineers in Singapore.
Here are some key milestones in the history of IES:
Today, IES is a leading professional organization for engineers in Singapore, with over 30,000 members representing various engineering disciplines. It continues to promote engineering excellence and play an active role in shaping the future of the engineering profession in Singapore and beyond.
Benefits of IES Accreditation for Engineers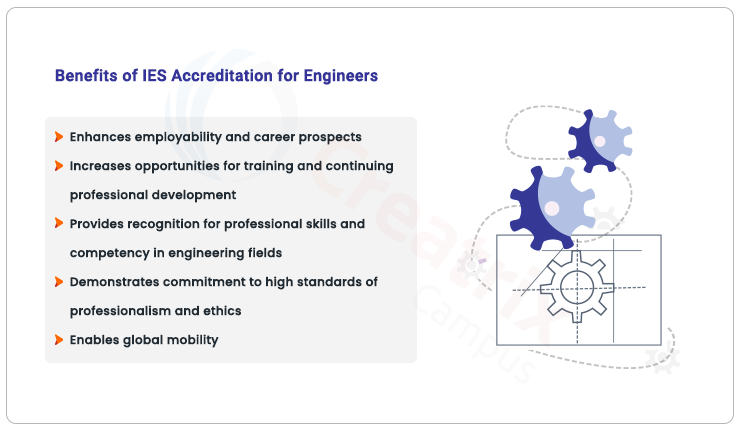 As a professional organization, IES Accreditation offers several benefits for engineers in Singapore seeking to enhance their careers and professional standing. Here are some of the key advantages:
Professional recognition and credibility
One of the primary benefits of IES Accreditation is the professional recognition and credibility it offers to engineers. Accreditation signals to employers, clients, and the wider community that an engineer has met rigorous standards of education, experience, and professionalism. This recognition can lead to increased respect and trust in the engineer's abilities, ultimately resulting in more job opportunities and higher salaries.
Career advancement opportunities
IES Accreditation also offers opportunities for career advancement. Accreditation can demonstrate an engineer's commitment to their profession, which can lead to promotions or new job opportunities. Additionally, some employers require or strongly prefer hiring accredited engineers, making accreditation a valuable asset for career progression.
Access to resources and networking opportunities
Accredited engineers also gain access to a range of resources and networking opportunities through IES. These resources include access to training and development programs, career services, and publications. Accredited engineers can also participate in IES events and conferences, which offer opportunities to connect with other engineers and stay up-to-date on the latest industry trends and best practices.
Benefits of IES Accreditation for engineering programs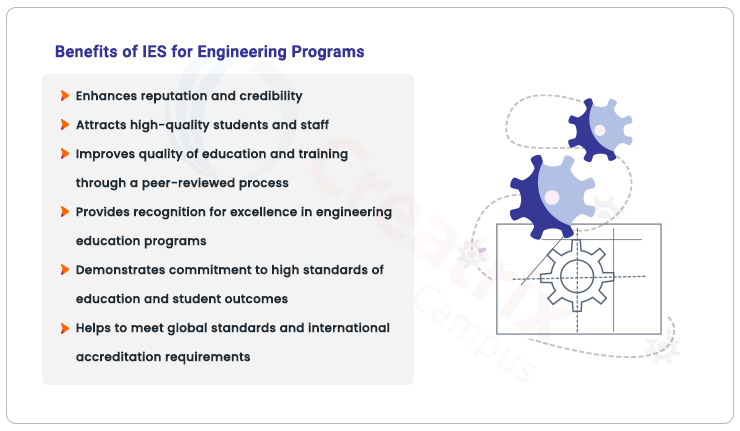 In addition to offering benefits for individual engineers, IES Accreditation also provides advantages for engineering programs in Singapore. Here are some of the key benefits:
Assurance of quality education
Engineering programs that achieve IES Accreditation demonstrate that they meet rigorous standards of quality education. This assurance of quality can help attract high-caliber students and faculty, as well as establish the program's reputation in the industry. Accreditation can also provide a competitive edge over other engineering programs that have not achieved accreditation.
Increased competitiveness
Accreditation can make engineering programs more competitive in the job market. Employers often prefer to hire graduates from accredited programs, as they have been trained to meet industry standards and are equipped with the necessary knowledge and skills to succeed in the field. Accreditation can also help programs stand out when seeking funding or partnerships.
Opportunities for collaboration and partnerships
Engineering programs that achieve IES Accreditation can benefit from partnerships and collaborations with other accredited programs and industry partners. Accreditation provides a common language and framework for collaboration, which can lead to joint research, sharing of resources, and other mutually beneficial initiatives.
The IES accreditation process and timeline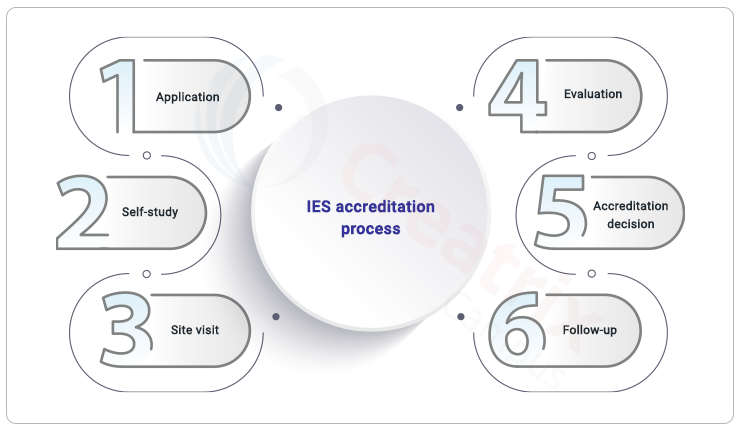 The IES Accreditation process typically takes between 12 and 24 months to complete and involves the following steps:
Application: The engineering program submits an application for accreditation, which includes documentation of eligibility and program information.
Self-study: The program conducts a self-study, which involves a thorough review of the program's curriculum, faculty, facilities, and resources.
Site visit: A team of peer reviewers appointed by the Engineering Accreditation Board visits the program to evaluate its compliance with accreditation standards.
Evaluation: The peer review team evaluates the program's self-study report, site visit report, and other relevant information to make a recommendation to the Engineering Accreditation Board.
Accreditation decision: The Engineering Accreditation Board reviews the peer review team's recommendation and makes a final decision on accreditation status.
Follow-up: Accredited programs are subject to regular follow-up evaluations to ensure continued compliance with accreditation standards.
Eligibility criteria for Engineers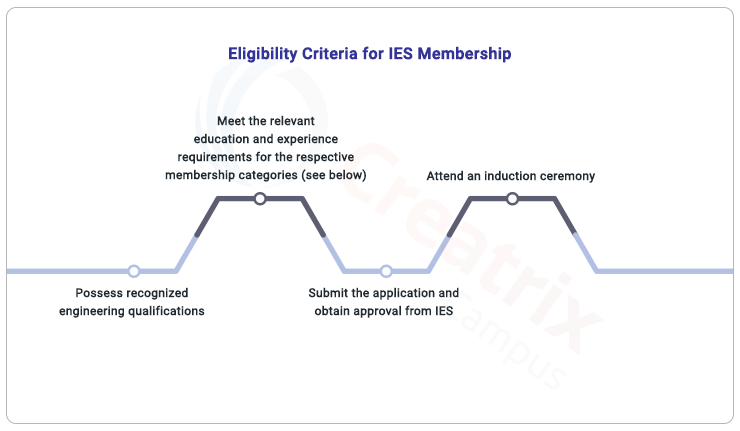 To be eligible for IES Accreditation, engineers must meet the following criteria:
Hold a degree in engineering or a related field from an accredited institution
Have at least four years of professional experience in engineering or a related field
Be an IES member in good standing
Demonstrate a commitment to continuing professional development
Eligibility criteria for engineering programs
To be eligible for IES Accreditation, engineering programs must meet the following criteria:
Be offered by an accredited institution of higher education in Singapore
Offer a curriculum that meets the standards set by the Engineering Accreditation Board (EAB)
Have at least one full-time faculty member who holds a doctoral degree in engineering or a related field
Have sufficient resources, facilities, and equipment to support the program's objectives and outcomes
Provide evidence of continuous improvement in program quality
Concluding thoughts
Pursuing IES Accreditation for both individual engineers and engineering programs can bring numerous benefits, such as enhancing professional development, improving job prospects, and ensuring program quality.
By meeting the eligibility criteria and undergoing the rigorous accreditation process, engineers and programs can demonstrate their commitment to excellence and their dedication to the engineering profession.
Furthermore, with the support of the accreditation automation platform, the IES Accreditation process can be streamlined and simplified, allowing for more efficient and effective accreditation evaluations. Creatrix Campus provides a comprehensive platform for managing the accreditation process, including document management, self-assessment, peer review, and reporting, among other features.
Overall, IES Accreditation is a valuable investment for engineers and engineering programs in Singapore, and with accreditation management system, the accreditation process can be made more manageable and less burdensome. So, if you're an engineer or an engineering program looking to enhance your professional standing and program quality, consider pursuing IES Accreditation today.